For all online attendees
Please access "Timetable" page in the APFB2020 indico  with "Detailed view" mode.  (The layout of the display when not in detailed mode is off.) Before the start of each session, you can find "Zoom Connection" periods. Click on the clip mark in the upper right corner of this time slot, and a "zoom connection link" will appear. Please click on the link to launch Zoom. This link is only available for registered attendees only, so please login to indico with your account which you used at registration.
A Zoom application may be installed, please follow your OS instructions to install it.
To reduce the network load, please turn off the camera and microphone except when you are giving your presentation or asking questions with the chairperson's permission.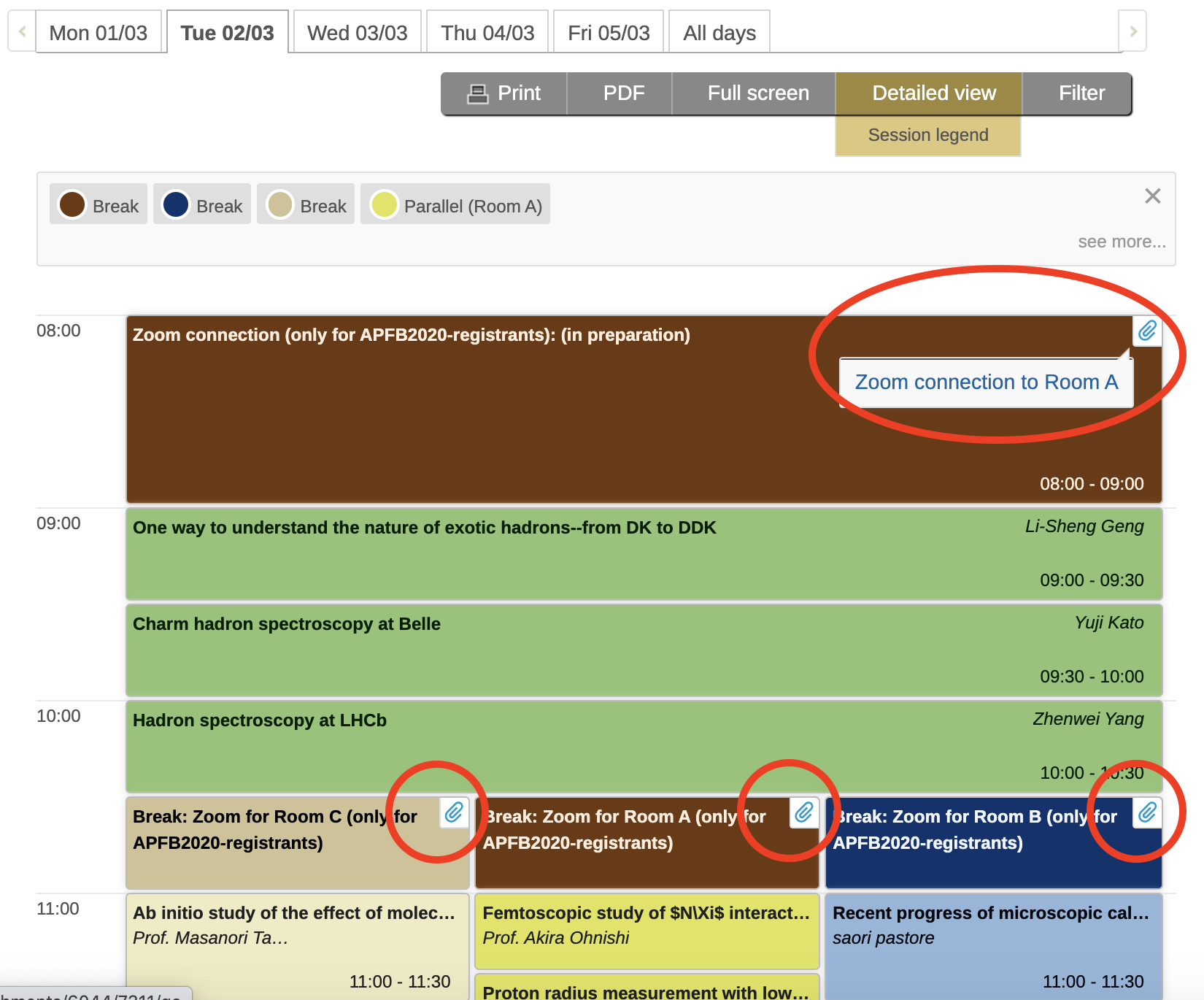 For online & on-site attendees of the poster session
The poster session will be held entirely online.  Both online and on-site participants should enter each zoom meeting rooms of poster presenters by clicking the clip mark in the timetable of indico as explained above. To avoid audio problems, on-site participants are requested to use earphones to participate from the venue or go back to their private rooms in the hotel.


For online oral presenters
Please make sure that you have as good Internet connection as possible, and be alone in the physical room or use headset when you are presenting in Zoom.  Zoom meeting rooms will be open 15 minutes before each session starts. Presenters are requested to enter the Zoom conference room at least 10 minutes before the start of their session.
If you are afraid of network condition, you can send us your recoded talk using zoom before APFB2020, as we emailed you.
For on-site oral presenters
To facilitate the hybrid conference, please use the laptops we have set up at each conference rooms for your presentation. Please copy your presentation files to the laptops at the venue using a USB flash drive before the session starts.
For those who want to discuss more
We also provide a common room on zoom with free  entry and exit during APFB2020.  You can find a zoom link in the slot before the plenary session on the first day of the timetable.