Interview with Students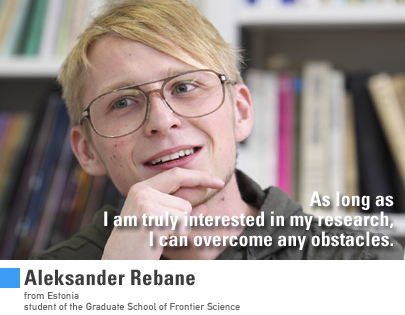 Why I selected Osaka University among more than 100 universities worldwide
After graduating from the Swiss Federal Institute of Technology Zürich, I worked in a company for a while, however I felt that I wanted to do pure research again and so I searched the world for a university where I could do the research I wanted. At that time, what was most important to me was a research area and level that matched my own interests. I decided that as long as that was possible, I would be happy to study in any country. Because I had lived in America, Switzerland, and Germany in addition to my home country of Estonia, crossing national borders and living in a foreign culture was not a particular concern to me. I carefully read the websites of more than 100 universities around the world, and selected some candidate schools for study abroad. Results from Japanese researchers aroused my interest, so I came to look at Japanese universities.The reasons I chose to apply to the Osaka University IPC were that I could become a member of a research group immediately upon enrolling in the Master's course, and that all coursework and research is conducted entirely in English. The substantial scholarship was also an appealing factor to me, as I wanted to devote as much time as possible to my research activities.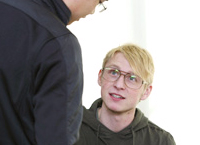 Aleksander Rebane's grandfather, grandmother, and father are physicists, and taught him that science knows no national boundaries.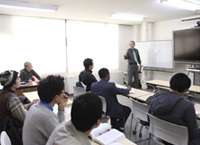 All IPC courses are taught in English, and students can develop a comprehensive and wide-ranging perspective on Physics.
I want to advance biological sciences working from a physics perspective.
I have always been interested in biology, and wanted to contribute to advances in biological science research. My focus was on approaching the biological sciences from a physics perspective. I thought that nonequilibrium physics in particular could represent a new method for unraveling the mysteries of biology. Now, six months after I enrolled, I am conducting research on oscillatory chemical reactions. Because life is only possible as a system that is considerably removed from equilibrium, I am hoping that such systems will provide clues that will help us to discover the principles behind biological mechanisms. I like the research laboratories and the atmosphere of the IPC. The members of my research laboratory are a small, elite group. We work closely with the professor, and can ask questions or request advice whenever we need to. Lecture speeds are tailored to my understanding, which has been very helpful. Although I frequently ask questions in many different areas, the professor and all the IPC instructors and staff have been very kind. They never seem bothered and always answer my questions carefully. I think this is a very large advantage of learning and researching at the IPC.
Learning Japanese to better understand Japan and the Japanese people
When I joined the IPC, it was my first time to come to Japan. There is no problem with my research and studies since these are conducted in English, however because many Japanese do not speak much English, I thought it was necessary to learn how to communicate with Japanese people during my everyday life. Japanese are ordinarily conservative and their ways of expressing emotion are different from the West. Moreover, Japan is overflowing with all kinds of merchandise, and it can take perseverance to find what you want when shopping. Even before coming to Japan I knew there would be these kinds of difficulties. However, I also anticipated that as long as I am truly interested in my research, I could overcome these obstacles, and in fact they have motivated me to study Japanese. The Japanese language classes supported by the IPC have been very helpful for this purpose. The level of language education at Osaka University is high, and being able to learn in a Japanese class that suits my level makes every lesson enjoyable. I think that if I am able to communicate in Japanese, I will also be able to better understand Japanese culture. Since I have taken this opportunity to come to Japan, I would like to learn not just about my field of research, but also about many different areas of Japan as well.